Hopes fade for missing Pakistan climbers
7 March 2013

From the section

Asia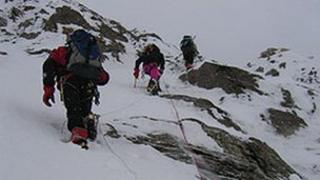 Hopes that two missing Polish mountaineers in Pakistan will be found alive are fading, officials say, after they went missing after scaling a peak of more than 8,000m (26,000ft).
They were among a group of four Poles who on Tuesday successfully completed the first winter ascent of Broad Peak, the world's 12th highest mountain
The pair went missing while on their way back down the mountain.
There has been no contact with them since early Wednesday.
Fellow mountaineers told Pakistani newspapers that Maciej Berbeka, 58, and Tomasz Kowalski, 27, were exhausted because Broad Peak in winter is an "incredible challenge" in -35C (-31F) temperatures and heavy snowstorms.
Broad Peak located in the Karakoram mountain range is notorious for its poor weather conditions.
Before beginning their ascent, the Polish team was on the mountain for more than a month, frustrated by extreme cold and strong winds that delayed their attempt to reach the summit.
"Climbers who make the final push to the summit have to descend at twice the speed - a delay of half an hour can become a matter of life and death," Karrar Haidri from Pakistan's Alpine Club is quoted as saying in local media.
Artur Hajzer, the leader of the Polish mountaineering expedition, said the chances of finding the two missing men were "falling dramatically".
He told a Polish news channel that "hope is fading" despite frantic efforts by other climbing teams to find them.
Polish expedition leaders said Thursday there are "no chances at all" of finding the climbers.