US arrests man in Oregon over Pakistan suicide bombing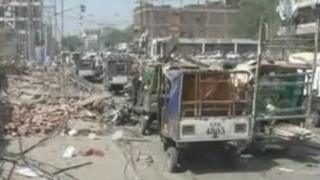 FBI agents in the US have arrested a man in Oregon over a deadly suicide bombing in the Pakistani city of Lahore in 2009.
Reaz Qadir Khan, a naturalised US citizen, denies one charge of giving "material support" to one of three men who carried out the attack on the intelligence HQ in Lahore.
He pleaded not guilty at his court appearance in the city of Portland.
At least 30 people were killed and about 300 injured in the bomb attack.
Mr Khan was remanded in custody pending a detention hearing scheduled for Wednesday afternoon. If convicted, he faces a potential sentence of life in prison.
He is accused of providing advice and financial help to Ali Jaleel, one of the three people who carried out the attack in Lahore.
US Attorney Amanda Marshall said that Mr Jaleel died in the attack but had taken responsibility for the bombing in a video released by al-Qaeda.
Mr Khan's lawyer, Larry Matasar, declined to discuss the case in detail.
"We just have to take this one step at a time,'' the AP news agency quoted him as saying. "We're going to first try to get him released from custody [on Wednesday]."