China and US 'agree North Korea nuclear test measures'
5 March 2013

From the section

Asia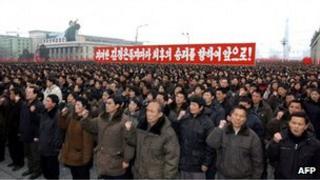 The US and China have reached a tentative deal on a new sanctions resolution to punish North Korea for its nuclear test, UN diplomats say.
Unnamed diplomats said a deal was agreed late on Monday and they hoped a draft resolution would be put to the Security Council on Tuesday.
The details of what has been agreed have not been announced.
North Korea carried out its third and most powerful nuclear test in February, sparking worldwide condemnation.
On Tuesday, North Korea threatened to scrap a 60-year armistice with South Korea. The country's military said it would end the truce this month, if the South continued annual military exercises with the US which began on Friday.
The Korean War ended with an armistice in 1953 - not a peace treaty - meaning the peninsula is still technically at war.
Similar threats have been made before by the North, which sees the military exercises and pressure over its nuclear programme as acts of aggression.
'Tough talks'
February's nuclear test was the first of its kind under new leader Kim Jong-un, who took over the leadership after his father Kim Jong-il died in December 2011.
Pyongyang said the test was a "self-defensive measure" made necessary by the "continued hostility" of the US.
Nuclear test monitors based in Vienna say the underground explosion had double the force of the last test, in 2009, despite the use of a device said by the North to be smaller.
North Korea claimed that a "miniaturised" device had been tested, increasing fears that Pyongyang had moved closer to building a warhead small enough to arm a missile.
The test came weeks after Pyongyang successfully used a rocket to put a satellite into space, a move condemned by the UN as a banned test of missile technology.
China is North Korea's only ally and its major trading partner. Beijing has been reluctant to support tougher sanctions in the past, citing the impact of potential instability inside its secretive neighbour state. With the recent test, however, its stance appears to have changed somewhat.
A UN diplomat told AFP there had been "tough talks" between China and the US on the issue and that a vote on the draft would happen "soon", though it was unlikely to be at Tuesday's session.
Another diplomat told Reuters that whether a draft was circulated on Tuesday was "up to the Americans".
The UN press office said Russia, which this month holds the presidency at the Security Council, would hold closed-doors talks on Tuesday morning.
North Korea is already subject to a raft of sanctions affecting individuals and government bodies, restricting financial activities and barring any trade or test of ballistics and nuclear technology.