Kazakhstan's independent media under fire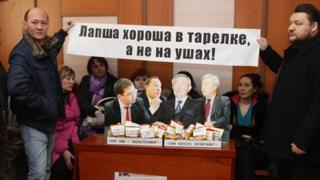 More than a year since the worst political violence in Kazakhstan's modern history, social tensions continue to rise and independent media are under fire from the government.
"We want the authorities to pay attention to the issue of corruption in our town," Berik Zhagiparov recently told journalists.
The Youth Gazette editor travelled to Almaty, Kazakhstan's commercial capital, to draw attention to the situation in his native Zhezkazgan.
The mining hub of 90,000 residents is one of many so-called mono-industry towns in Kazakhstan. Virtually every household has a family member working for the town's lead employer, Kazakhmys, a copper mining company listed on London's FTSE 100.
Mr Zhagiparov says people are worried about the future of the mining operation and working and living conditions for its employees and their families.
His newspaper, which regularly published articles about the workers' union and their rights, had its licence revoked in January.
Mr Zhagiparov, who was arrested earlier this month for seven days for organising an illegal protest, thinks the authorities are running scared.
"Perhaps it was a precaution, the authorities were concerned that some articles in our newspaper could spark a blast, and for them it was better to extinguish the flame," he said.
The move to ban the paper comes amid a broader campaign against other media outlets which have reported on industrial unrest and which are critical of the government.
Kazakhstan's leading opposition newspaper, Respublika, lost its appeal against a ban last month.
Along with media outlets, including a satellite TV channel and a news portal, Respublika newspaper and its affiliated websites were banned last year after the government accused them of "propagating extremism".
Zhanbulat Usenov, a Foreign Ministry spokesman, said action had been taken against a limited number of outlets "in response to the active role they played in fomenting social unrest, which is classified as extremism under Kazakhstani law".
Long history
The allegations appear linked to their coverage of Kazakhstan's longest-running industrial strike.
A seven-month dispute over pay and working conditions in the depressed oil town of Zhanaozen ended on 16 December 2011 after security forces opened fire on unarmed demonstrators.
At least 14 people were killed and more than 100 injured.
Five months into the protest in October 2011, when the BBC visited Zhanaozen, strikers were angry at being ignored, both by their state oil company employer and the authorities.
On top of their original demands, protesters were also complaining about the uneven distribution of profits from the country's oil riches.
The banning of the media outlets follows the trial of an opposition politician.
Vladimir Kozlov, leader of the Alga Party, was jailed for seven-and-a-half years last October for "inciting social unrest" and attempting to overthrow the government in connection with the Zhanaozen violence.
Vladimir Kozlov denied the charges. But during the trial, he admitted to a friendship with a fugitive oligarch Mukhtar Ablyazov.
Mr Ablyazov, a former energy minister and chairman of BTA bank, fled the country in 2009. He was granted political asylum in the UK.
BTA filed a lawsuit against Mr Ablyazov in the high court, accusing him of defrauding the bank by moving billions of US dollars out of Kazakhstan in fraudulent transactions.
Mr Ablyazov claims the allegations are politically motivated. Last year, the Kazakh government accused him of "manufacturing" the unrest in Zhanaozen by financing media outlets and the Kozlov-led opposition.
Mr Usenov, the Foreign Ministry spokesman, says that since leaving the country, Mr Ablyazov has "waged war on Kazakhstan's government, positioning himself for the international audience as a democratic campaigner persecuted by authorities and stirring unrest in Kazakhstan through his Alga party and media platform".
Closing his media empire was "aimed at minimising the influence of a fugitive whose only goal is to destroy the stability and success of Kazakhstan for his own ends".
The closed media outlets have always denied any connection to Mr Ablyazov, who in February 2012 was sentenced to 22 months in jail in the UK for contempt of court. His current whereabouts are unknown.
'No dialogue'
Reporters Without Borders, which ranked Kazakhstan 160th of 179 countries in its latest World Press Freedom Index, has described the decision to ban the media outlets as an "unprecedented blow to pluralism".
"President Nursultan Nazarbayev's government, forging ahead with its policies of repression, moved closer to the ultra-authoritarian model of its neighbours Uzbekistan and Turkmenistan," the report says.
Media rights activist Tamara Kaleyeva agrees.
"In Soviet times, any rare attempts to express discontent were rooted out, and here we see the same situation," she said.
"The authorities want to make sure that Zhanaozen events are not repeated, so better squash any criticism. Stability at any cost, stability as they understand it, is security for those in power."
Until Zhanaozen, Kazakhstan enjoyed a reputation for being one of the most stable countries in the region.
According to political commentator, Dosym Satpayev, the government is only just beginning to acknowledge tensions in other mono-industrial towns between workers and the authorities.
"There are Zhanaozens in every region of Kazakhstan," he said.
"Zhanaozen in this sense does not simply mean an industrial conflict. It means a lack of any form of dialogue between people and the government."
In the streets of Almaty, people have mixed feelings about the closure of opposition media outlets.
Most agree that it reduced the variety of information available, some thought it was the sign of the government tightening its grip over freedom of speech.
"I did not like the fact that Respublika newspaper always criticised the president, they only wrote about negative things," complained a pensioner, Sabirjan.
"But when we watch state TV, all we see is dance and music, so it's not good that those media outlets were shut."