Tamil deportations from UK blocked by London High Court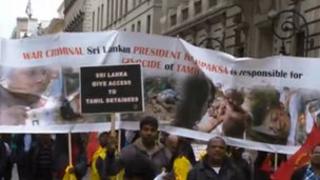 The High Court in London has blocked the deportation of a group of failed Tamil asylum seekers scheduled to be sent back to Sri Lanka on Thursday.
The ruling means they will be able to remain in the UK pending investigations into their contention that they will be tortured if they are made to return.
The UK Border Agency told the BBC that it was "disappointed" by the ruling, and that it would appeal.
Human rights groups say some Tamils sent back earlier had been tortured.
They say that in some cases they were subjected to abuse because of their alleged links to separatist Tamil Tiger rebels. The Sri Lankan government denies this.
Sri Lanka's civil war came to an end in 2009, after 26 years of conflict and up to 100,000 casualties as the Tamil Tigers fought for independence.
'Fallen prey to lies'
It is believed to be the first time that a UK court has blocked the deportation of a group of Tamils to Sri Lanka, although many individuals over the last 18 months have won last-minute court injunctions preventing their return.
In a statement released late on Wednesday, the Border Agency said the ruling did "not represent a blanket ban on returns to Sri Lanka".
However lawyers for Tamils under threat of deportation insist that it has wider implications, because it applies to all other failed Tamil asylum seekers - including those in detention - meaning none can be removed at present.
UN High Commissioner for Human Rights Navi Pillay has accused the Sri Lankan government of abuses, including killing former Tamil Tigers and political opponents.
On Wednesday, Sri Lankan envoy Mahinda Samarasinghe accused Ms Pillay of bias in a speech to the UN Human Rights Council in Geneva.
Mr Samarasinghe said his country had "fallen prey to lies" spread by former rebels.
Correspondents say his criticisms reflect government sensitivities over Sri Lanka's rights record ahead of Colombo hosting a summit of British Commonwealth countries in November. Campaigners are calling for it to be boycotted.
On Tuesday Human Rights Watch, a New York-based organisation, accused Sri Lankan security forces of committing crimes of sexual violence against ethnic Tamils in custody.
Sri Lanka's government also dismissed the report as "lies".