Pakistan naval officer injured in Karachi shooting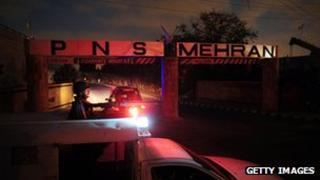 A Pakistani naval officer has been shot and injured in an attack in the port city of Karachi.
Police in Karachi say that the officer was travelling alone in his car when he was shot, and that they believe there may have been more than one attacker.
The incident is the second attack on a Shia naval officer this month.
Karachi is Pakistan's principal port and the main base for its navy but has also been plagued by years of ethnic and sectarian violence.
On 7 February, another Shia naval officer, Lt Commander Syed Asif Hussain Kazmi, was injured following an explosion in his car near the Karsaz naval base in Karachi. He had to have one leg amputated after the attack.
Pakistan's navy has been the target of a series of attacks claimed by al-Qaeda and the Pakistani Taliban in the past, the BBC's M Ilyas Khan reports from Islamabad.
Those attacks were thought to be a response to the use of naval surveillance aircraft to identify and target Taliban hideouts in the northwest, and also the arrest of pro-Taliban elements within the navy.
However, these latest attacks seem to have a more sectarian dimension, our correspondent reports.