Tibetan teens 'set themselves on fire in western China'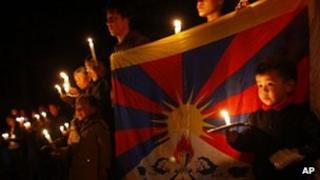 Two Tibetan youths have burned themselves to death in western China, reports from activists and Tibetan exiles say.
The deaths are the latest in a long series of protests at perceived repression by the Beijing government.
The two, aged 17 and 18, set themselves alight in Aba, in Sichuan Province.
Campaigners say that more than 100 ethnic Tibetans have set themselves on fire in China, including Tibet, over the past two years.
Most of them have died from the injuries sustained in their act of protest.
Aba county, an ethnic Tibetan area that is home to the Tibetan Buddhist Kirti monastery, has been the scene of many of the self-immolations in recent months.
Last week, a 19-year-old Tibetan monk from the same area set himself on fire in protest.
The two teenagers who died on Tuesday were named as 17-year-old Rinchen and 18-year-old Sonam Dhargye.
According to the Tibetan Centre for Human Rights and Democracy, Rinchen was on his New Year holiday visiting his family at the time of the incident.
Most of the self-immolations have taken place in the ethnic Tibetan areas of China.
International media are often denied access to the area, making it difficult to verify accounts.
Many have involved Buddhist monks or nuns calling for greater religious freedom and the return of their exiled spiritual leader, the Dalai Lama, Tibetan activist groups say.