Tibetan man sets himself on fire in Nepal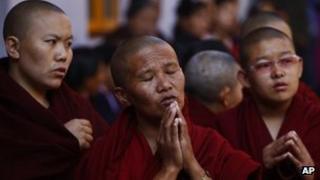 An ethnic Tibetan man has set himself on fire in Nepal in an apparent protest against Chinese rule in Tibetan areas.
Police say the man doused himself in petrol before setting himself ablaze near a famous Buddhist shrine.
The man, dressed as a monk, chanted pro-Tibetan independence slogans while covered in flames, the Associated Press news agency said, citing eyewitnesses.
About 100 Tibetans are believed to have set themselves on fire since 2009. Most are reported to have died.
The self-immolations have been going on mainly in ethnic Tibetan areas of China.
Many have involved Buddhist monks or nuns calling for greater religious freedom and the return of their exiled spiritual leader, the Dalai Lama, Tibetan activist groups say.
Foreign media are banned from the region, making verifying the self-immolation cases difficult. Chinese state media have confirmed some but not all.
In the latest case, Nepalese police say a man thought to be in his 20s set himself alight at a cafe near Boudhanath Stupa in the capital, Kathmandu.
He is in hospital in a critical condition.
A waiter at the cafe said the man walked in and asked to use the toilet.
"He looked like the hundreds of Tibetans who came to Boudhanath today and I did not suspect he was going to set himself on fire,'' Prasant Tamang told Associated Press.
Tempa Tsering, representative of the Dalai Lama's office, said the incident was "very unfortunate".
"We feel very (sad) that this has happened. The Tibetan leadership has been urging people to refrain from such drastic steps for long," he was quoted by Agence-France Presse news agency as saying.
Nepal is home to at least 20,000 Tibetan refugees.
The Tibetan government in exile is based in the Indian town of Dharamsala.
China has accused the exiled Dalai Lama of glorifying the protests, a claim he strongly objects.