Burma to review political prisoners' detention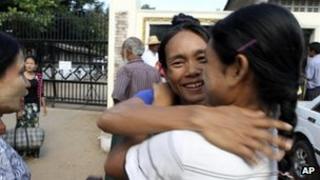 The Burmese government is to establish a committee to review the detention of its remaining political prisoners.
Hundreds have already been released as part of ongoing political reforms.
The government has previously referred to all detainees as criminals. It now says it will define which can be classified as prisoners of conscience, then work toward their release.
The government said the committee will include officials and representatives of political parties and civil society.
A presidential spokesman said the release of prisoners was key to national reconciliation.
Quoted by AFP news agency, Ye Htut said that first "it is important to decide who will be designated as political prisoners".
A spokesman for the rights group Former Political Prisoners, Kyaw Hlaing, welcomed the government's recognition of the jailed dissidents and said he hoped they would be released by the middle of the year.
"It has been very difficult to the government to admit that there are political prisoners," he said, quoted by AFP news agency.
He added that about 240 were still being held.
The government promised the review last year ahead of a visit by US President Barack Obama.
It has already freed thousands of prisoners in a series of amnesties, including several hundred political prisoners in January 2012. Among them were some of the country's most prominent dissidents.