Japan frees crew of 'illegal' Chinese fishing boat
4 February 2013

From the section

Asia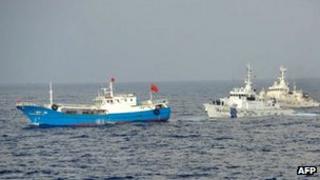 Japan has released the captain and crew of a Chinese fishing boat who were arrested last week on suspicion of illegally fishing in Japanese waters.
The 100-tonne boat with 13 crew members had been fishing for coral near Miyako island in the Okinawa chain.
They were about 150km (95 miles) from a group of islands at the centre of a dispute between Japan and China.
The crew were released on Sunday after the Chinese consulate paid their bail, China's Xinhua news agency reported.
Xinhua said the boat, the Qiong Yang Pu F8139, had set sail for China late on Sunday with all its crew on board.
Coast Guard official Yasuhiko Oku said the captain had admitted being inside Japan's exclusive economic zone when he was stopped on Saturday, the Associated Press reports.
The incident came amid high tensions between Japan and China over the disputed islands, known as the Senkaku in Japan, which controls them, and the Diaoyu in China.
The dispute over their ownership has been rumbling for years, but it reignited in 2012 when the Japanese government purchased three of the islands from their private Japanese owner.
Shortly before the Chinese crew were arrested, Japanese Prime Minister Shinzo Abe had vowed to defend Japan against Chinese "provocation".