Afghanistan: Roadside bomb explodes in Kandahar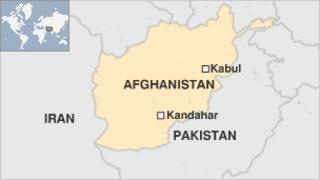 At least 10 people have been killed, eight of them police officers, after a roadside bomb detonated in the southern city of Kandahar, officials have said.
Police in Kandahar said they went to a residential area to defuse a bomb but were hit by a second device.
There has been a wave of recent attacks targeting security forces across the country.
On Saturday, a suicide bomber on a motorbike killed 10 police officers in the northern province of Kunduz.
In the Kandahar attack, police had driven into a residential neighbourhood of the city to inspect a bomb found there.
They had detained three suspects and were driving back in a police truck when they struck a second device that had been buried in the road.
Eight police officers and two of those who had just been detained were killed in the blast.
No-one has yet said they carried out the attack, but Taliban-linked insurgents have been blamed for a string of similar incidents.
In another attack earlier on Saturday, a suicide bomber riding a bicycle killed two in the country's south-eastern Ghazni province, a police officer and a civilian.
On Friday, a suicide bomber in a car attacked a Nato convoy in the strategic Kapisa province, killing at least five civilians and wounding 15.