International Antarctic rescue successful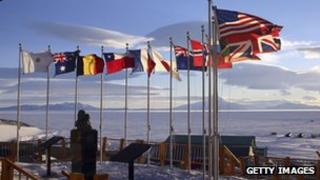 An international mission to rescue a sick US citizen working at a research centre in the Antarctic has returned to New Zealand.
An Australian Airbus A319 arrived in Christchurch on Thursday after a five-hour trip from the US McMurdo station.
The patient - who has not been identified - was met by an ambulance and brought to a local hospital.
The rare mid-winter rescue was timed to coincide with the brief daily period of light on the continent.
The US had requested help from Australia, saying the patient required treatment beyond that available at the base.
"The patient is currently stable but may require immediate corrective surgery," a statement by the US National Science Foundation (NSF) said earlier on Thursday.
It added that the base was "not equipped for the type of procedure being contemplated".
NSF said that they would not release his or her name because of privacy issues.
A spokeswoman told Time magazine that the person likely did not go to the research station with the ailment. Researchers stationed at McMurdo pass a "very rigorous health-screening process".
The base's runway is one of the few in the Antarctic that remains operational for much of the year, despite the polar darkness and hostile conditions.
McMurdo reported a temperature of -31F (-35C), on early Friday, local time.