Militants in Pakistan attack Nato truck for Afghanistan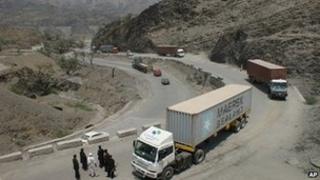 A truck driver has been killed in an attack on a Nato supply tanker in north-west Pakistan, officials say.
The tanker, part of a convoy of 18, was attacked by two gunmen on a motorbike as it travelled through Khyber Agency on its way to Afghanistan.
It is the second such attack since Nato began using the route again three weeks ago, after a seven-month blockade.
Pakistan closed its border to Nato traffic after a US attack last year killed 24 Pakistani soldiers.
Nato traffic was briefly suspended after Monday's attack, which took place in the Jamrud area.
Supplies were put on hold for two weeks after an attack in Khyber agency on 24 July, in which a driver was killed and another person injured.
A BBC correspondent in Pakistan says the convoy route passes through rugged mountain terrain and is provided with little in the way of security.
The Taliban are against Pakistan allowing supplies for the US-led mission in Afghanistan to cross its territory, and mount frequent attacks on convoys.