Pakistan judges strike down new contempt law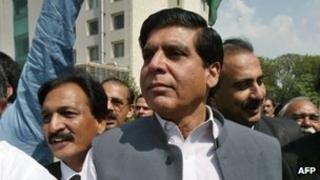 Pakistan's Supreme Court has struck down a new law designed to exempt top government officials from contempt of court charges.
Five judges, headed by Chief Justice Iftikhar Mohammed Chaudhry, said granting immunity to public office holders was unconstitutional.
The ruling could see PM Raja Pervez Ashraf thrown of out office.
His predecessor, Yousuf Raza Gilani, was removed by the court in June, after he was convicted of contempt.
The BBC's M Ilyas Khan in Islamabad says the Supreme Court's ruling puts it on a collision course with Pakistan's government once again.
The court wants the government to write to the Swiss authorities asking them to reopen an old corruption case against President Asif Ali Zardari.
Mr Gilani refused, arguing that the president had immunity from prosecution as head of state.
Many believe the new contempt law was introduced to prevent the court from disqualifying Mr Gilani's successor.
The court has given Mr Ashraf until 8 August to write the letter to Switzerland. If he fails to do so, he could face the same fate as Mr Gilani, correspondents say.
The corruption case dates back to the 1990s when Mr Zardari and his late wife, former Prime Minister Benazir Bhutto, were accused of laundering millions of dollars in kickbacks in Swiss bank accounts.
Mr Zardari says the charges are politically motivated.
The wrangling between the court and the government is part of a long and bitter feud. The government also has a troubled relationship with Pakistan's powerful military.
General elections are due by early next year, with the Pakistan People's Party-led government aiming to make history by becoming the country's first civilian government to see out a full five-year term.