Afghan art looted and feared lost forever returns home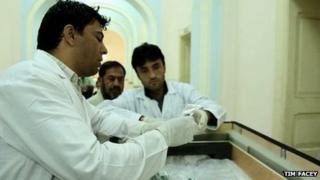 On Sunday, British officials will complete the handover of hundreds of archaeological artefacts to the National Museum of Afghanistan. Many were stolen during the civil war and have been recovered with the help of the British Museum and the UK Ministry of Defence, writes the BBC's Aleem Maqbool.
Fahim Rahimi has been waiting for this moment for months.
The young chief curator of Afghanistan's National Museum has just taken delivery of three huge orange-painted metal chests.
They have come from London, via RAF Brize Norton and Camp Bastion.
All the staff at the museum gather round and fall silent as Fahim unscrews one of the containers.
As the front is removed, it reveals a large, beautifully preserved stone statue of Buddha, thought to be around 1,800 years old.
With a wooden bar across his chest to hold him in place in the crate, Buddha's right hand is raised in a gesture of assurance and serenity.
He is back home, but it has taken 20 years and has been quite a journey.
This is one of more than 800 historical artefacts that have been returned to Afghanistan with the assistance of the British Museum and the UK's Ministry of Defence.
Many of the treasures, like the statue of Buddha, had been on display in the National Museum in Kabul in the early 1990s, but were stolen during the civil war and ended up on the black market.
"I am so happy, but not just as an archaeologist," says Fahim.
"I am happy as an Afghan that all of these pieces that are so important to the history and culture of this country are back with us."
There is excitement as he opens the second chest. When he lifts the lid and removes the packaging, everyone moves closer to take a look at the dozens of precious artefacts laid out inside.
Generous donors
Among them are delicate furniture decorations from the 1st century AD, made of ivory from the ancient city of Begram.
But there are Bactrian statuettes and flasks thought to be millennia older.
After being stolen, it was feared many had been lost forever.
However, some were intercepted by border forces as they were being smuggled into the UK, others recovered after investigations by London's Metropolitan Police.
Some were found in private collections and bought by generous British donors on behalf of the Kabul Museum.
They include the statue of Buddha, which we later see mounted in a cove close to the entrance to the museum.
"It was discovered in Japan," curator Fahim tells me. "A private anonymous donor bought it for us, and we are so grateful."
But as the figure of Buddha looks down at us, finally at rest after its 20-year ordeal, it is hard not to think of its future.
Could Afghanistan again see a time when there is such chaos that the national museum could be looted at will?
Will the leaders here always respect their heritage, even the pre-Islamic?
Is it too early to return this Buddha to the museum from which it was stolen or would it have been better to keep it elsewhere?
"God willing, we will never see days as bad as that again," says Fahim.
"We need these things here to remind people of our rich culture and of the people we are."