Qantas passenger kept on hold 'for 15 hours'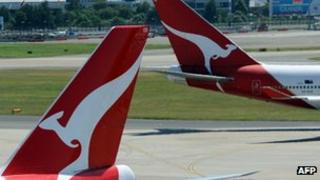 An Australian man has said he was kept on hold by airline Qantas for 15 hours, while calling to confirm travel plans.
Andrew Kahn told Australian media he called on Wednesday evening, hearing a message promising someone would speak to him "as soon as possible".
Mr Kahn said he left the call running overnight and eventually hung up just after 11:00 the next morning, not having spoken to anyone.
A spokesman for Qantas told Australian media it had no record of the call.
Mr Kahn said he had time during the wait to read a 200-page management textbook, as well as browse the internet and do some other work.
''I think the wait time was simply my determination to see what exactly they meant by a representative coming on the line as soon as possible,'' he told the Herald Sun newspaper.
Mr Kahn says he rang back later on Thursday and spoke to a Qantas representative. He then discovered there had been an error with his booking on a flight to New York on Sunday.
A spokesman for Qantas has been quoted in local media as saying the company had no record of a 15-hour wait time, and that the maximum wait during the period in question was 17 minutes, with the average under one minute.
However, the spokesman did apologise for Mr Kahn's booking being cancelled due to a "system error" and said it has been reinstated.