India blasts: One injured in Pune bomb explosions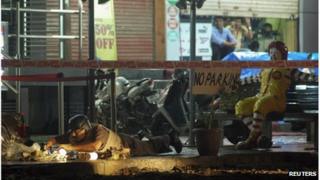 At least one person has been injured in a series of bomb blasts in the western Indian city of Pune, police say.
Television reports described the explosions - which went off within minutes of each other during evening rush hour - as "low-intensity".
A bomb attack on a popular bakery in Pune in 2010 killed 17 people and injured more than 50.
The latest blasts came on the day India's new home minister, Sushilkumar Shinde, took up his post.
He was due to have attended a function in Pune on Wednesday evening but cancelled at the last minute, NDTV reported.
Pune police commissioner Gopal Rao Pol said the blasts happened in the Jangli Maharaj Road area.
"It does not seem to be a terrorist attack - rather it seems to have been a mischief-maker," he told AFP news agency.
One of the bombs went off outside a McDonalds fast food restaurant, two near a theatre and another near a bank, police said.
Up to two other bombs had been defused, reports said.