'Campaign of violence' in Burma state - rights group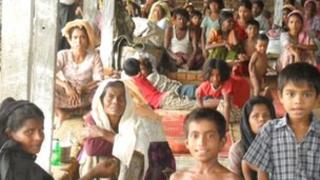 Government forces are continuing to persecute Muslims in Burma's Rakhine state after failing to protect them during deadly clashes in June, Human Rights Watch has said in a report.
Security forces had killed and raped members of the Rohingya group and arrested hundreds of others, it said.
The 56-page report is the second in a fortnight to draw attention to abuses in Rakhine state.
The UN has sent an envoy to investigate the violence that killed at least 78.
''To demonstrate its seriousness in addressing abuses, the government should grant the UN special rapporteur on human rights in Burma, Tomas Quintana, full access to investigate abuses on all sides and take action to hold perpetrators accountable,'' Human Rights Watch said.
In the weeks since the worst of the violence the Burmese authorities have stopped journalists and aid workers from getting to most sensitive parts of the state, says the BBC's Jonah Fisher in Bangkok, so getting accurate information is extremely difficult.
Burma denies its security forces are guilty of human rights abuses in Rakhine. A presidential adviser responded to the Human Rights Watch allegations by saying the government had responded to the violence there as quickly as it could.
The Human Rights Watch report was based on 57 interviews in both Burma and neighbouring Bangladesh.
It said that security forces had failed to stop the unrest, which led to houses being razed and tens of thousands of people losing their homes.
"Burmese security forces failed to protect the Arakan (Rakhine) and Rohingya from each other and then unleashed a campaign of violence and mass round-ups against the Rohingya,'' said Brad Adams, Asia director at Human Rights Watch.
The findings in the HRW report are similar to an earlier report by Amnesty International - dismissed by a government spokesman in the state as "groundless and biased".
Long-standing tension
A state of emergency was declared in Rakhine in June after deadly clashes between Buddhists and Muslims.
Violence flared after the rape and murder of a Buddhist woman in May, followed by an attack on a bus carrying Muslims.
Communal unrest continued in parts of Maung Daw as Muslims attacked Buddhist homes. Reprisal attacks then targeted Muslim homes and communities. The attacks left many dead and forced thousands of people on both sides to flee their homes.
There have been long-standing tensions between Rakhine people, who are Buddhist and make up the majority of the state's population, and Muslims, many of whom are Rohingya.
Many Rakhine Buddhists have said that much of the violence in June was carried out against them by Rohingya groups. Rohingyas say they have been forced to flee because of the violence.
Burma's President Thein Sein has said that the "solution" for the Rohingya was deportation or refugee camps.