Afghanistan: Herat policeman 'kills foreign contractors'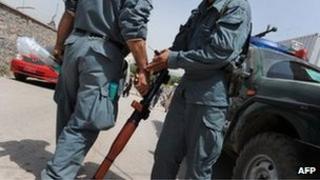 An Afghan policeman has shot dead three foreign staff at a training centre in western Herat province, Afghan officials say.
The gunman also injured their Afghan translator, the security and intelligence officials told the BBC.
The attacker, who is said to have worked for the regional police command, was subsequently killed by members of the US-led international force Isaf.
An Isaf spokesman told the BBC the contractors were civilian employees.
Maj Adam Wojack said the attacker had been wearing an Afghan army uniform.
He did not give the nationality of the three contractors killed in Sunday's incident. One report said they were American but this has not been confirmed.
Officials named the policeman as Eidi Mohammad, from the neighbouring province of Ghoar.
It was unclear what his motives might have been.
The BBC's Bilal Sarwary in Kabul says hundreds of Afghan recruits from several Western provinces join the national police at the Herat base.
Some of the recruits come from remote areas where Taliban insurgents are in control, he says.