At least eight people killed in Pakistan mine blast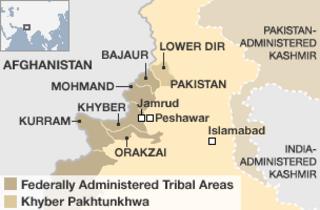 At least eight people were killed when a passenger van hit a landmine on the border between Pakistan's Orakzai tribal region and Kohat district, officials say.
The van was travelling from Taliban-occupied Orakzai to Kohat, they say.
Correspondents say that the mine went off in the Sepa area, inhabited by a Shia tribe.
The Taliban consider Shias to be non-Muslims, and some Taliban groups openly support sectarian killings.
Police told AFP news agency that two children and two women were among the dead in Tuesday's blast.
Much of Pakistan's tribal regions on the Afghan border are Taliban and al-Qaeda strongholds.
Pakistan is a majority Sunni Muslim state, and most Sunnis and Shias live peacefully together.
But the country has a long history of sectarian attacks by extremists on both sides.
Attacks by Sunni militants on Shias have risen over the last year, especially in the south-western province of Balochistan.