Burma's Aung San Suu Kyi set for US visit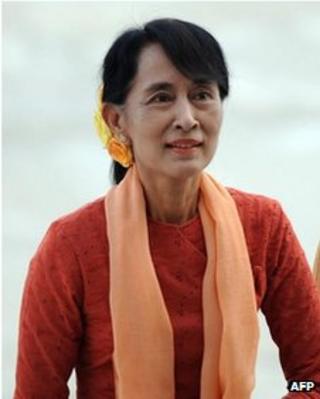 Burma's opposition leader Aung San Suu Kyi is to travel to the United States in September, in her first trip there in more than 20 years.
She will receive awards from a think-tank and the US Congress, reports said.
She would also be invited to meet government officials, the State Department said, without expanding.
Ms Suu Kyi recently visited Europe for a 17-day tour during which she received her Nobel Peace Prize, 21 years after it was awarded.
The Atlantic Council think-tank said she had accepted an invitation to attend a dinner in New York on 21 September, where she would receive its Global Citizen Award.
The annual award will also honour top US diplomat and Nobel laureate Henry Kissinger, former United Nations High Commissioner for Refugees Sadako Ogata, and musician and humanitarian Quincy Jones.
During her trip, Ms Suu Kyi is also expected to be presented with the Congressional Gold Medal, a top award from the US Congress that was bestowed on her in 2008, an AFP news agency report said.
"We look forward to an appropriate date welcoming Aung San Suu Kyi here to the State Department and her having bilateral meetings here in the US," US State Department spokesman Patrick Ventrell told reporters, without confirming dates of the visit.
Political progress
Ms Aung San Suu Kyi spent much of the past two decades under house arrest in Burma before she was freed in late 2010.
She won a seat in Burma's parliament in a by-election in April and made her debut as an MP in parliament earlier this month, after returning from her trip to Europe.
The two-week-long trip - seen as another milestone for Burma's political progress - saw her visiting the UK, Switzerland, Ireland, France and Norway. It was her second recent overseas trip, after visiting Thailand in May.
Her decision to travel was seen as a sign of confidence in the government of President Thein Sein, who has pursued a course of reform since coming to power after Burma's first elections in 20 years, held in November 2010.
Ms Suu Kyi is the daughter of Burmese independence leader Aung San, who was assassinated in 1947.
She became the leader of Burma's pro-democracy movement when, after living abroad for many years, she returned to Burma in 1988, initially to look after her sick mother.
She did not leave the country, fearing its military rulers would not allow her to return.