Philippines urges China to explain stranded frigate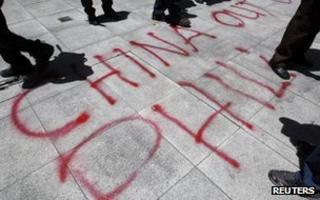 The Philippine government has asked China to explain how one of its naval vessels ran aground within what Manila says are its territorial waters.
The frigate struck Half Moon Shoal, 110km (70 miles) from western Palawan province, late on Wednesday.
Several areas in the South China Sea are disputed by a number of nations.
However, China, which said the ship was carrying out a patrol when it became stranded, claims the entire sea as its historical territory.
Offer of help
A Philippine military aircraft has confirmed the presence of the frigate, along with a number of other vessels presumed to be taking part in a rescue operation.
Regional military spokesman Col Neil Anthony Estrella told Agence France-Presse: "During the aerial reconnaissance mission, they were able to confirm, based on photographs, that there is indeed a ship with bow number 560 aground at Half Moon Shoal."
Col Estrella said the frigate was 60 nautical miles from Palawan, well within the 200-nautical-mile exclusive zone recognised by international law.
Philippine foreign affairs spokesman Raul Hernandez said Manila's embassy in Beijing had been told to offer China help in extricating the stricken vessel.
"We need to find out what really happened with the Chinese frigate in our territory," Mr Hernandez said.
China's foreign ministry confirmed the ship had run aground during a patrol and said no-one had been hurt. It said a recovery operation was under way.
China and the Philippines have been involved in tense offshore exchanges this year.
There was a month-long stand-off at another disputed area, Scarborough Shoal, 710km north of Half Moon, with Manila accusing Chinese fishermen of poaching.