South Korea's Park Geun-hye makes bid for presidency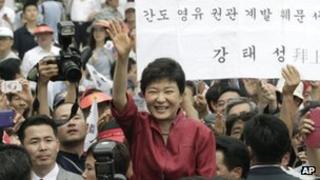 The daughter of South Korea's former dictator Park Chung-hee has launched a bid to become the country's first female president.
Park Geun-hye, 60, from the ruling conservative Saenuri Party, promises "a country where no one is left behind".
Her father ruled South Korea from 1961 to 1979 until he was assassinated by his own spy chief.
President Lee Myung-bak will step down next year after a mandatory single term.
Ms Park's father, Park Chung-hee, carries a mixed legacy.
While admired by many older Koreans for leading the country's economic transformation, he is seen by others as a military dictator with a long record of human rights abuses, according to to the BBC's Lucy Williamson.
"People say this country and the economy grew, but their lives didn't get better and their happiness did not grow," Ms Park said at a rally at a mall in Seoul.
"The change you have been waiting for, Park Geun-hye will make it come true."
Ms Park is promising more welfare policies and engagement with North Korea if it abandons its nuclear weapons programme.
She is currently leading opinion polls and is expected to win her party's backing at a primary next month. She sought the presidency in 2007, but her party nominated Mr Lee.
The unmarried Ms Park, who is described as intensely private despite her bids for public office, lives in a modest home in Seoul.
She served as South Korea's first lady for five years after her mother was shot dead in 1974.