Pakistan's army steps up radio wars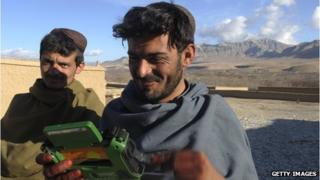 The army is considered to be one of Pakistan's shrewdest commercial operators, running bakeries, factories and even expanding into tourism.
It has been bitterly criticised for aggressively pursuing such lucrative ventures, but its latest foray into the corporate world may be of some use to its battle against militancy in Pakistan's restive north-west.
The army has a radio station - FM 96 was set up to counter militant propaganda in the Swat Valley, but it is now expanding its broadcasts into the semi-autonomous tribal belt.
Many in Pakistan are still suspicious of the power of the military, which has ruled the country for more than half of its history.
But Pakistan's far north-west presents a particularly intractable challenge - it is a region renowned for its complex rivalries, power struggles and the changing loyalties of various tribal groups.
'Mullah Radio'
FM 96 was first set up around the time that the army launched a huge military offensive to win back control of Swat from the Taliban, which had swept to power in the once peaceful and lush valley. The Taliban had been running radio stations for some time - the brainchild of notorious Taliban cleric, Maulana Fazlullah.
Known as "Maulana Radio", Fazlullah used to run a network of FM frequencies in the region to preach extremist Islamic views. The stations aired Islamic programmes and sermons of religious leaders. Appeals for donations were regularly made.
The same phenomenon can be witnessed in Afghanistan, where the Taliban broadcast from makeshift radio stations.
"Pakistan's state institutions decided to respond to the propaganda aired by Maulana Fazlullah in Swat. For security reasons it was not possible to do it without the army's involvement," says FM 96's chief executive Aqeel Malik, who is also a serving officer of the Pakistani army.
Although the army eventually triumphed, driving militants out and allowing the many thousands who fled their repressive regime to return, it was not long before the army itself stood accused of abuses such as extra-judicial killings.
The army strenuously denied all such accusations, but mistrust between the security forces and the population has lingered.
The region is still at the centre of a propaganda duel as Maulana Fazlullah was never caught and militants continue to broadcast propaganda from a number of radio stations.
The army's radio station seeks to soften the image of the all-powerful security forces and the army is clearly hoping it can extend this image to the tribal areas.
It says FM 96 is simply there to provide people with entertainment and information. But experts say the main focus of the station is to reach areas where militants have more influence than the army itself - even if it is through the lilting melody of a Bollywood love song.
Reaching out
These areas include Pakistan's semi-autonomous tribal belt and parts of the province of Balochistan.
Simply being present in people's lives in such places is enough, observers contend. From its studios in Islamabad, the army is now broadcasting to 16 cities and towns in areas where militants once held power - including Swat and Malakand. The army has plans to expand this coverage to 44 cities.
Current affairs content features in the broadcasts, but most radio time is taken up by entertainment shows. Live callers are frequently encouraged to phone in and request songs and this has boosted the station's popularity.
Ironically, for an army which has for decades been preoccupied by the perceived threat from India, the choice of music for FM 96 is Bollywood's latest hits.
Hakeem Zada, who lives in the north-west of the country, listens to the station's morning show called Informed Morning.
"This show discusses our everyday problems like power outages and inflation. I like to contribute to the discussions and try to highlight my area. This is a really good show," she says.
But critics including author Ayesha Siddiqa have wasted no time in branding the broadcasts an army publicity stunt intended to boost the military's commercial interests. Many argue such interests are problematic in a country where the military often appears to be in unacknowledged conflict with the civilian government.
In a country with a history of frequent military coups, such critics are sensitive to such military ventures.
Army empire?
Dr Siddiqa's influential book, Military Inc, details the army's commercial interests.
"They are not planning more than 50 such channels for nothing. They are definitely using it for propaganda," she said.
"Who knows what they'll say on these channels against the Pakistani government or even neighbouring countries?"
Dr Siddiqa points out that when the military recently launched its own transport fleet, senior officers argued that it was only for military purposes.
"But later it spread to the extent that it took over most of country's cargo movement, throwing the national rail service into huge losses."
The army strongly denies these claims. Col Malik argues that FM 96 is being run on a non-profit basis. But he admitted that there were plans to expand the station.
For callers to the phone-in shows, however, these arguments are somewhat prosaic. For them, it is the entertainment that matters most, although many still talk about security.
"I hope and pray that situation in our valley improves significantly and quickly," an unidentified caller tells the host during one live programme.
FM 96 may be gaining ground in troubled parts of country, but it is far from certain if that is sufficient to win the loyalty of people under pressure in Pakistan's volatile tribal belt.