Afghanistan: US Nato soldiers killed by roadside bomb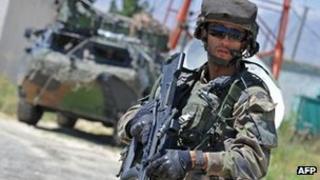 A roadside bomb in eastern Afghanistan has killed six US soldiers serving with the Nato force.
The nationality of the soldiers was not immediately given, but the Pentagon later confirmed they were all American.
The incident came as donors meeting in Japan pledged to give Afghanistan $16bn (£10.3bn) in civilian aid over four years, including the period during which foreign troops are to pull out.
Violence has recently spiked. At least 14 civilians were killed on Sunday.
The civilians were killed in two roadside bombs in the southern Kandahar province, regional police chief Gen Abdul Raziq said.
The first bomb hit a car, and the second exploded when a tractor arrived to rescue the wounded. Women and children are among the dead, the regional governor's office said.
And a new video has been released apparently showing the a woman being shot in a village north of Kabul by local Taliban fighters last week.
The woman was reportedly accused of adultery. A Taliban spokesman denied the group had ordered the killing.
In a statement , Nato commander Gen John Allen condemned the incident.
"This wasn't justice, this was murder, and an atrocity of unspeakable cruelty," he said.
"The Taliban's continued brutality toward innocent civilians, particularly women, must be condemned in the strongest terms."
He said Nato would offer help to local authorities to track down the killers.
Western governments have agreed plans to pull out of Afghanistan by 2014.
Nato-led forces will hand over combat command to Afghan forces by mid-2013, followed by a withdrawal of combat troops by the end of 2014. After that, only training units will remain.
In May, US President Barack Obama and his Afghan counterpart, Hamid Karzai, signed a 10-year strategic partnership agreement outlining military and civil ties between the countries after 2014.