Pakistan drone attack kills 12 suspected militants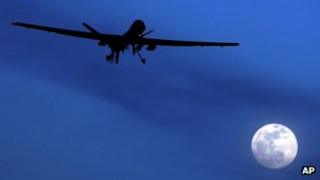 A US drone attack has killed at least 12 suspected militants in Pakistan's north-western tribal area, Pakistani security officials say.
They say drones fired five missiles at a village east of Miranshah, the main town in North Waziristan.
The CIA is reported to have stepped up drone attacks in the area recently.
Meanwhile, in an attack in the south-east of the country, gunmen on motorcycles opened fire on a bus, killing 18 people.
According to AFP news agency, the drones targeted the village of Datta Khel, which is considered to be a stronghold of Taliban commander Hafiz Gul Bahadur.
Six people died in an attack in the same area on Sunday, the news agency reports.
It is the first drone attack since Islamabad and Washington reached a deal to re-open transit routes into Afghanistan, ending a seven-month long dispute.
Lorries crossed the border on Thursday after an apology by the US for air strikes that killed 24 Pakistani troops in November.
Drone attacks are a continuing point of contention between the US and the Pakistani government, which says they kill civilians and violate its sovereignty.
In a separate attack, 18 people were killed when armed men attacked a bus in a remote town in Baluchistan province.
The attack took place when the bus, which was travelling to Iran, stopped at a shop in the Kech area, police told Reuters news agency.
Several armed groups operate in the province, one of the poorest in the country.