Refugees risking everything to reach Australia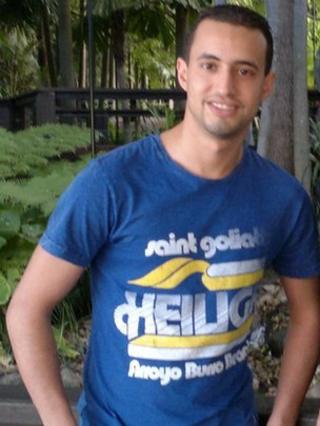 The overloaded, decrepit fishing boat had defied the Indian Ocean for five punishing days when increasingly turbulent seas near the Australian territory of Ashmore Reef slowly began to swamp the tiny vessel.
Its panic-stricken cargo of about 60 asylum-seekers had, like thousands of others in recent years, risked everything sailing from Indonesia in search of a new life beyond the horizon.
"All we could do was pray that we would get to Australia," said Ali, a 26-year old Iraqi refugee who will never forget that fraught journey in December 2009.
The website designer had escaped violence in Iraq, and travelled through Iran and Malaysia before arriving in Indonesia, where trafficking gangs lie in wait for the desperate and vulnerable.
"When you are in the middle of the ocean all you can see is only the sky and the water. No-one would know about you if something happened," Ali told the BBC from his new home in Brisbane.
"It was a hard experience. It just was a little, old boat. We didn't have enough space to sleep. It was scary. Fortunately the (Australian) navy got to us before anything happened," he added.
Others are not so fortunate, and we will never know how many boats have vanished en route.
Last month, about 90 asylum seekers died when their vessel capsized north of Christmas Island, an Australian territory in the Indian Ocean that is routinely targeted by the smugglers.
A few days later 130 people were rescued when their boat sank in the same region.
'Political hot potato'
The maritime emergencies sparked another bitter and ultimately fruitless round of political squabbling in Canberra.
Both the Labor government and its conservative opponents want to send asylum seekers to neighbouring countries to have their refugee claims assessed far away from Australian soil.
But while ministers favour a "Malaysian Solution", the other side insists that the Pacific island of Nauru would be a better deterrent.
It is argued that those who take the dangerous gamble trying to reach Australia by boat would think twice if they knew they could be shipped off for processing in another country.
No agreement could be reached, and while the political impasse remains the boats continue their perilous voyages. Most leave Indonesia's southern shores, but other vessels have recently made the long journey from Sri Lanka and even India, according to human rights campaigners.
"I find it very distressing that we've got both a government and an opposition that seem to be abrogating their responsibilities and just using slogans to deal with a very important and increasingly tragic issue," said refugee lawyer Marion Le.
"I think it does shame us. We were one of the very early signatories to the UN convention of refugees and we used to hold our head very proudly in the world."
"How pathetic and ill-educated do we appear to be when we can't even cope with the small numbers that we're having to deal with," she told the BBC from her office in Canberra.
Rough sea
So far this year more than 4,000 asylum seekers have been intercepted in Australian waters, small by international standards but enough to ignite a fractious debate about immigration.
Most unauthorised sea arrivals are eventually classified as genuine refugees, while the bulk of those seeking Australia's protection step off commercial airlines, not leaky boats.
Sayad Kasim, a Rohingya Muslim who fled Burma, paid traffickers $3,000 (£1,914) for a place on a rickety vessel that left Indonesia in January 2010.
"There were very big waves and we have a very small boat. All of the people were praying and crying, and thought we would die," he said.
"I am looking for a better life in Australia for my children, not for me."
After six months in detention on Christmas Island, Sayad was granted refugee status but his wife and four children remain stuck in Malaysia, where the family sought sanctuary after abandoning Burma.
It is unclear, however, if Australia will allow them in.
"They are not safe in Malaysia but I don't want my wife and young children to come here by boat," explained Sayad, who suffers from depression as he fights to reunite his family.
More asylum seekers will continue to dice with the Indian Ocean to reach Australia, most driven from their homeland by persecution and war.
Ali, the young Iraqi computer science graduate, says he was willing to lose everything at sea for a chance to finally escape the cruelty of the past.
"The reason why we came to Australia was to stay alive, nothing else," Ali said bluntly.