Australia vessels aid boat in Indonesia distress call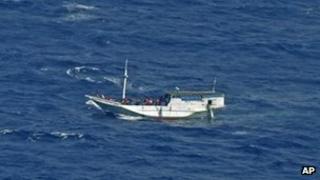 Two Australian navy vessels have now reached a boat that issued a distress call in waters off Indonesia.
Officials say that a party from the HMAS Wollongong has boarded the boat.
The boat, which initial reports say has 164 people aboard, called for help as it sailed between Indonesia and Australia's Christmas Island.
It comes a day after the two countries pledged better co-operation on people-smuggling, after two asylum-seeker boats sank in the same area last month.
The Australian Maritime Safety Authority (AMSA) said in a statement that the navy boat HMAS Leeuwin has also arrived in the area to assist in the search and rescue operation.
"Due to concerns about the seaworthiness of the vessel attempts are being made to transfer the people from the vessel to HMAS Leeuwin. Continuing rough sea conditions will mean the transfer may take several hours," AMSA said.
"It is anticipated that HMAS Leeuwin will then transfer the people to Christmas Island," it added.
Asylum target
The spokesman of Indonesia's National Search and Rescue Agency, Gagah Prakoso, said that the boat had refused help from Indonesia.
"They [the asylum-seekers] asked for help for a satellite phone, but when an Indonesian official picked up the call, they hung up because they wanted to be rescued or detained by Australia," he said.
Christmas Island, which lies off Australia's north-west coast, is closer to Indonesia than Australia. It is targeted by asylum-seekers hoping to get to Australia who usually sail on over-crowded, poorly-maintained boats.
People-smuggling was top on the agenda when Australian Prime Minister Julia Gillard and Indonesian President Susilo Bambang Yudhoyono met in Darwin on Tuesday.
The two leaders said they had agreed to work together to improve joint reaction to incidents involving asylum-seeker boats.
Two asylum-seeker boats sank in waters between the two countries last month.
One boat sank off Christmas Island on 21 June. A total of 110 people were rescued and 17 bodies were found, but it was believed to have been carrying up to 200 people.
At least four people are believed to have died a week later when another boat sank in the area.
Australian authorities want to find ways of deterring people from making the dangerous journey but the two main parties are deadlocked on how to tackle the issue.