US Senate confirms Derek Mitchell as Burma ambassador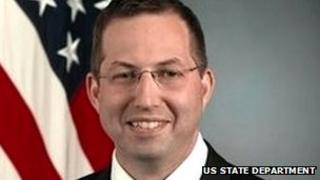 The US Senate has confirmed the appointment of diplomat Derek Mitchell as the United States' first ambassador to the country in 22 years.
President Barack Obama nominated Mr Mitchell in May, in response to moves towards political reform in Burma.
It followed his work as Washington's co-ordinator for Burma policy, where he spearheaded efforts to bring Burma out of decades-long isolation.
Burma held an election in 2010 and has since freed political prisoners.
Opposition leader Aung San Suu Kyi's National League for Democracy won 43 seats in parliamentary by-elections this April.
After spending most of the past 24 years under house arrest, she recently completed her first trip to Europe since 1988.
However, Burma's government is still dominated by the military and opposition politicians still form a small minority in parliament. Concerns over political repression and human rights abuses also persist.
Senior Republican Senator Mitch McConnell welcomed Mr Mitchell's confirmation, saying his experience "will serve us well in the region", according to the Associated Press news agency.
Before his appointment as Mr Obama's envoy, Mr Mitchell was a senior defence official specialising in Asia.
The US is currently represented by a lower-level diplomat in Rangoon. Burma is also expected to send a full ambassador to Washington.