Salman Butt demands new cricket match-fixing trial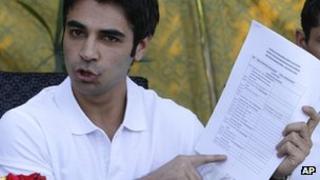 Former Pakistan cricket captain Salman Butt, who was jailed for 30 months in the UK last year for spot-fixing, has called for a new trial in Pakistan.
Butt, 27, who was freed from prison last week and has since returned home, said he was wrongly convicted and would be cleared in a Pakistani court.
He was jailed along with two other cricketers for the deliberate bowling of no-balls in a 2010 Test match.
They were also given five-year playing bans, which they are appealing against.
"I don't think I got justice in the trial that sentenced me to a jail term," the Reuters news agency quoted him telling a news conference in Lahore.
"I want a trial in the Supreme Court of Pakistan, because there was no evidence confirming I did spot-fixing."
He was released from Canterbury Prison last Thursday after serving seven months of his two-and-a-half year prison sentence.
The two cricketers sentenced to prison along with him, bowlers Mohammad Asif, 29, and Mohammad Amir, 19, have also since been freed.