Pakistan: President 'nominates Shahabuddin for PM'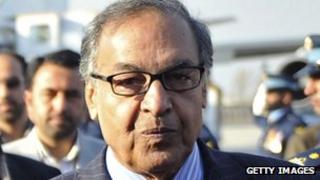 Pakistani President Asif Ali Zardari has named Textiles Minister Makhdoom Shahabuddin as candidate to become prime minister, state media say.
The move comes a day after the Supreme Court disqualified PM Yousuf Raza Gilani from holding office because of a contempt conviction.
President Zardari said earlier he would ask parliament to endorse a new prime minister on Friday.
Mr Shahabuddin served in the cabinets of both Benazir Bhutto and Mr Gilani.
He is a member of the National Assembly and leader of the Pakistan People's Party (PPP) in his native southern Punjab.
State TV said that another minister, Raja Pervez Ashraf, would be offered as a "covering" candidate in case the textiles minister was rejected by MPs.
The court's decision to disqualify Mr Gilani stunned Pakistan's government on Tuesday, two months after judges convicted the prime minister of contempt of court for failing to pursue corruption charges against the president.
In April, he was given a token sentence and avoided a jail term.
'Politically motivated'
President Zardari announced his nomination for Mr Gilani's replacement having spoken first with representatives from the PPP and then with members of the coalition whose support Mr Shahabuddin will need to secure election. Mr Zardari is co-president of the PPP.
The charges against President Zardari date back to the 1990s when his late wife Benazir Bhutto was prime minister. They were accused of using Swiss bank accounts to launder bribe money.
President Zardari has always insisted the charges against him are politically motivated.
Mr Gilani's removal as prime minister is being seen as the culmination in a bitter feud between the government and judiciary.
Even if the president's nomination does become prime minister, he is likely to face the same Supreme Court demand as Mr Gilani for the launch of a corruption inquiry into Mr Zardari.