Afghan President Hamid Karzai condemns Nato air strike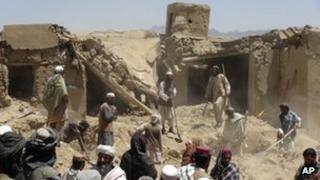 Afghan President Hamid Karzai condemned a Nato air strike on Wednesday, in which 18 civilians were reportedly killed.
Afghan officials said women and children were among the dead when Nato struck a village in Logar province during an anti-Taliban operation.
In a statement, Mr Karzai said the attack was "unjustifiable". Nato says it will investigate.
Civilian casualties in Nato- and US-led raids are a highly sensitive issue.
After a similar attack in eastern Afghanistan last month, Mr Karzai warned that civilian casualties caused by Nato could undermine the strategic partnership agreement he had signed with the US.
The 10-year accord outlines military and civil ties between the countries after the end of Nato's mission in Afghanistan in 2014.
Tribal elders and officials in Logar province told the BBC that top Taliban commanders had gathered at the house in a remote village in the district of Baraki Barak.
Afghan and Nato forces surrounded the house and warned the Taliban to surrender. Isaf, Nato's operation in Afghanistan, said that the troops came under fire.
Nato forces then called for an air strike.
An Isaf statement later said only two women were injured in the attack and they were taken for treatment.
But in his statement Mr Karzai said that the 18 people killed in the Nato attack were all civilians.