Activist Chen Guangcheng attacks China 'lawlessness'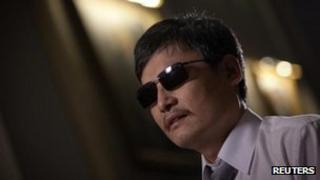 ''Lawlessness'' could be the biggest challenge to China's political stability and must be tackled, activist Chen Guangcheng has said.
Writing in the New York Times, he said the absence of the rule of law was a "fundamental question" the Chinese government had to face.
The blind human rights lawyer caused a diplomatic crisis when he fled to the US embassy in Beijing last month.
He was allowed to go abroad to study law at New York University.
Mr Chen spent almost a week at the US embassy before going to a hospital for treatment of injuries sustained during his flight from house arrest in late April.
After weeks of uncertainty, the activist, his wife Yuan Weijing and their two children were allowed to fly to the US on 19 May.
'Critical juncture'
The self-taught lawyer campaigned against forced abortions under China's one-child policy and was jailed for four years in 2006 for allegedly disrupting traffic and damaging property. He was placed under house arrest after his release in 2010.
Mr Chen said he and his family had been confined ''illegally'' to their home in Dongshigu village since 2005, ''cutting us off from all contact with other villagers and the world''.
''China does not lack laws, but the rule of law,'' Mr Chen said in a piece published on the New York Times website on Tuesday night.
The officials who dealt with his case were able to ''openly flout the nation's laws in many ways for many years''.
The government needed to confront the discrepancies between ''the law on the books'' and ''the law in practice'', he said.
After his escape in April, members of his family were reportedly harassed by local officials.
His nephew Chen Kegui is being charged with attempted murder after an incident which Mr Chen described as self-defence. Lawyers who have volunteered to defend the young Mr Chen say they have been prevented from representing him.
Last week Mr Chen's brother and Chen Kegui's father, Chen Guangfu, escaped the village to seek help for his son in Beijing. He is now believed to be back in the village.
''The independent defence lawyers who tried to help me and now my nephew face daily danger and unfair treatment,'' Mr Chen wrote.
He reiterated his call for Chinese authorities to honour their promise to him to conduct a ''thorough and public investigation'' into alleged abuses against his family.
China was ''at a critical juncture'' with a top leadership change due to take place later this year and the issue of ''lawlessness'' could threaten political stability, he wrote.
He called on the new leadership to ''use this opportunity wisely'', adding: ''As an ancient Chinese proverb says, 'If one is not righteous oneself, how can one rectify others?'''