US drone 'kills six' in Pakistan's tribal north-west
28 May 2012

From the section

Asia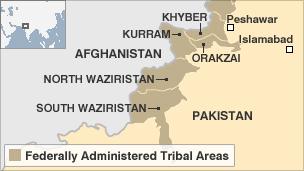 A US drone strike has killed at least six people in north-west Pakistan, officials say, the latest in a barrage of strikes on a restive tribal region.
The five suspected militants died in the North Waziristan tribal area near the Afghan border.
Officials say those killed were foreigners, but they were unable to identify their nationalities.
Drone attacks frequently target Pakistan's volatile tribal areas, where many insurgents seek refuge.
An official told news agency Agence-France Presse that the drones were "targeting a militant compound and a vehicle".
A drone strike on Saturday in the same area killed at least four suspected Taliban militants. There have been several drone strikes in North Waziristan over the last week.
It comes after Pakistani and US officials held meetings during the recent Nato summit on Afghanistan in Chicago.
Relations between the two countries had been frosty since 24 Pakistan soldiers were killed in a Nato air strike in November 2011.
Pakistan shut down a key Nato supply route to Afghanistan following that incident and restrictions or an end to drone attacks is among their conditions for reopening the route.