Sri Lanka to free ex-army chief Sarath Fonseka soon - wife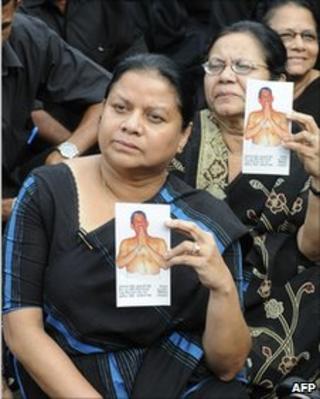 Jailed Sri Lankan presidential candidate and former army commander Sarath Fonseka may be freed this weekend, his wife has told the BBC.
Anoma Fonseka said she received the news from President Mahinda Rajapaksa after meeting him for two hours on Wednesday.
Mr Fonseka led the army to victory over Tamil Tiger rebels in 2009.
He was detained in February 2010 after losing an acrimonious presidential election campaign to Mr Rajapaksa.
In September 2010 he was moved to prison after a military court found him guilty of corruption.
Before the elections he had fallen out with Mr Rajapaksa over who should take the credit for victory in the war.
Medical treatment
Mrs Fonseka told the BBC that while Mr Rajapaksa had not given her a concrete time when her husband would be released, she expected it to happen by the weekend.
"I am not sure when exactly it will happen but I have an expectation it will be soon," she said.
She said that Mr Fonseka was now in better health after suffering for three months with a heavy cough.
"If he is released, he will receive medical treatment in Sri Lanka rather than abroad," she said. "He would like to stay here."
Correspondents say that the fact that both Mr Fonseka and Mr Rajapaksa were ardent Sinhalese nationalists only made the election fight more bitter.
Soon after the results of the vote started coming through, Mr Fonseka's campaign hotel was surrounded by troops. Twelve days later, he was taken into custody by military police - being arrested by an officer junior to himself.
His detractors - and every government figure swiftly became one - said that he was plotting a coup, and that two court martial verdicts against him show he was guilty of dabbling in politics while in uniform and corruptly securing arms deals.
But Sarath Fonseka's supporters say he was detained for daring to challenge Mr Rajapaksa at the polls.
The opposition says his fate reflected the government's intolerance of dissent.
Meanwhile a group of political prisoners has gone on hunger strike to demand that they too are released.
"If Mr Fonseka - who has been convicted - can be freed why not us who haven't even been charged?" one of them asked in an interview with the BBC Sinhala service.
In a letter they say that even though it is almost three years since the war ended in May 2009, "nothing has been done to expedite our legal process".