Warren Weinstein, US hostage in Pakistan, in video plea
7 May 2012

From the section

Asia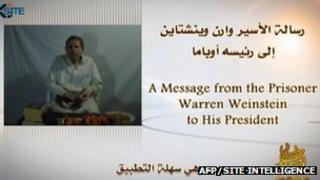 US hostage Warren Weinstein has pleaded with President Barack Obama to meet his captors' demands in a video released by al-Qaeda's media arm, says US monitoring group Site intelligence.
Mr Weinstein, 70, an aid expert living in Pakistan, was kidnapped by armed men in the city of Lahore last August.
The short video was posted to Islamist websites on Sunday, according to Site.
Last year al-Qaeda leader Ayman al-Zawahiri said Mr Weinstein would be freed if the US stopped air strikes.
'Life in your hands'
In a video released last December, the al-Qaeda leader demanded that the US cease strikes in Afghanistan, Pakistan, Somalia and Yemen and also demanded the release of al-Qaeda and Taliban suspects around the world, including the 1993 World Trade Center bombers.
"My life is in your hands, Mr President. If you accept the demands, I live; if you don't accept the demands, then I die," Site quoted Mr Weinstein as saying in the latest video.
Mr Weinstein also had a message for his wife in this video telling her: "I'm well; I'm getting all my medications; I'm being taken care of."
Family members told the Associated Press they had no comment, but a friend of Mr Weinstein said watching the video gave him mixed feelings.
"He's more capable of withstanding these circumstances than anybody else I know," Mike Redwood said. "But it doesn't take away from feeling really depressed at seeing him there."
There is no indication as to when or where the footage was filmed. It is thought to be the first time Mr Weinstein, who was wearing a traditional Pakistani tunic, has appeared in a video.
Mr Weinstein was snatched before dawn on 13 August 2011 when eight gunmen broke into his home.
He was said to be the country director in Pakistan for JE Austin Associates, an American firm that advises a range of Pakistani business and government sectors.
Mr Weinstein reportedly lived mainly in Islamabad, but also travelled to Lahore. He was described on the firm's website as an "expert in international development with 25 years' experience".