US and China media chide Obama administration on Chen
4 May 2012

From the section

Asia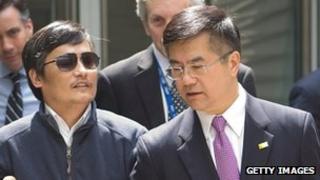 The twists and turns in the story of Chinese dissident Chen Guangcheng have occupied the US media ever since his escape, but the story only rose to prominence in Chinese media on Friday.
In China commentators suggested the US had ulterior motives and condemned American criticism of China's human rights record.
US papers, meanwhile, are largely scathing in their criticism of the Obama administration's handling of the affair.
VIEW FROM CHINESE MEDIA
Beijing's China Daily in English
"The Chinese saying that a leaf before the eye blocks the view of a mountain describes the situation that occurs when some Americans look at human rights issues in China... Chen Guangcheng and those who are trying to pressure China with him are taking the advantage of each other for their own purposes... It is improper for the US embassy in China to act in a way that supports, or gives the impression that it supports, those who have made up their mind to vent their grievances against local officials in an extreme manner."
Beijing's Jinghua Shibao
"The US handling of the case of Chen Guangcheng does not mean that it really has any good intentions... Chen Guangcheng is the new-found tool and pawn of the US. He could not find justice at the US embassy, but only the helplessness of being used and performing for the camera."
Beijing's Beijing Ribao (Beijing Daily)
"Cleverly creating disturbances and engaging in petty tricks will not work on China, and US politicians will just show themselves up. Both the US embassy and ambassador to China should abide strictly by diplomatic protocol and should not do things that are detrimental to their own and their country's character for the sake of ulterior motives. After all, 1.3 billion Chinese are not so easily deceived and exploited."
Beijing's Global Times
"Chen, who reportedly said 'I want to kiss you' to Hillary Clinton on the phone, is now expressing his disappointment at the US government to the media... Western media have helped to raise some unrealistic demands about human rights standards."
Beijing Youth Daily
"This 'show' and 'performance' [by US diplomats] has gone beyond the functions, duties and role of an US ambassador to China, runs counter to obligatory basic norms and ethics in diplomatic activities, has hurt the Chinese people's feelings and seems to have added trouble and hindrances to Sino-US relations."
VIEW FROM US MEDIA
The New York Times
"The Chinese dissident Chen Guangcheng's abrupt reversal and plea for protection from the United States has deepened a diplomatic crisis and exposed the Obama administration to withering criticism that its diplomats miscalculated when they negotiated his departure from the American Embassy in Beijing. "
In a separate piece, the paper wonders whether the case might point to wider problems between the two super-powers: "are the US and China headed toward a cold war?", it asks.
The Washington Post
"For China, the crisis falls into an ongoing struggle between increasingly visible reform-minded moderates within the Communist Party and hard-liners who emphasize security and stability at any cost... In many ways, China's apparent willingness to give assurances to a foreign country about how it would treat one of its citizens was exceedingly rare. But the deal's rapid unravelling could, instead, boost hard-liners."
The Wall Street Journal
"The notion that the US would be able to impose conditions on Mr Chen's release in China was always optimistic...The episode points up the limitations of Beijing's control over its provinces... local officials were given leeway to mistreat an internationally prominent dissident in a way that has set back China's efforts to portray itself as a benign power ruled by law. A multi billion-dollar effort to project China's 'soft power' has effectively been hijacked by village thugs".
The Boston Herald
"Could the case have been any more badly bungled by US officials?...Are US officials that naive or merely stupid? Or did they just want to make this 'problem' go away... She [Clinton] never mentioned Chen. What a profile in courage! We can only hope that in private talks she will be bolder in securing freedom for Chen and safety for those who helped him. We can hope, but we are not overly optimistic?"
The Chinese press was compiled by BBC Monitoring , which selects and translates news from radio, television, press, news agencies and the internet from 150 countries in more than 70 languages. It is based in Caversham, UK, and has several bureaux abroad. For more reports from BBC Monitoring, click here