UN sanctions three North Korea firms over rocket launch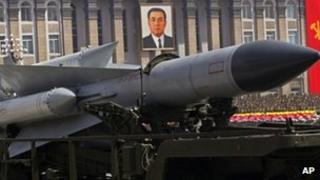 The UN has imposed sanctions on three North Korean state-owned companies in response to Pyongyang's failed rocket launch last month.
The decision to freeze the assets of the firms and ban them from global trade was approved by the UN Security Council's sanctions committee.
The US and EU had wanted to blacklist some 40 North Korean firms but China blocked the move.
Tension on the Korean peninsula remains high after the 13 April launch.
Pyongyang said at the time it was putting a satellite into orbit but critics said the launch was a disguised test of missile technology banned under UN resolutions.
The rocket launch failed, with the device crashing into the sea shortly after take off.
'Credible response'
On Wednesday, the sanctions committee named the three blacklisted companies as Green Pine Conglomerate, Amroggang Development Banking Corporation and Korea Heungjin Trading Company.
It said they were all involved in financing, exporting and procuring weapons.
US envoy to the UN Susan Rice hailed the decision, saying in a statement that it "constitutes a serious and credible response to North Korea's provocation".
"These measures will increase North Korea's isolation and make it harder for Pyongyang to move forward with its illicit programmes," she said.
In addition, the sanctions committee approved extra items and technology that would be prohibited for transfer to or from North Korea - updating its lists dealing with Pyongyang's missiles and nuclear related material.
However, the total number fell far short of the roughly 40 firms proposed by the West, Japan and South Korea.
This is because it was opposed by China, North Korea's protector in the UN Security Council, says the BBC's Barbara Plett in New York.
Before Wednesday's decision, the North Korean sanctions lists included eight companies and five individuals.
Pyongyang has not publicly commented on the new sanctions.