Actor Paul Hogan's Australia tax battle 'over'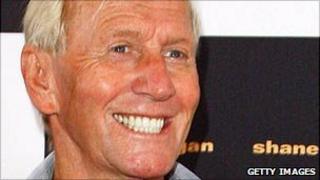 Crocodile Dundee star Paul Hogan says an eight-year tussle with Australian tax authorities is over after a deal was reached.
The actor said via his lawyer that he and producer John Cornell had reached a deal over an alleged A$150m ($156m, £96m) in unpaid taxes and penalties.
Hogan was briefly barred in 2010 from leaving Australia to return to his US home because of the dispute.
No charges were ever laid and the actor repeatedly denied any wrongdoing.
The 72-year-old said he was relieved that the row was over.
"I am glad it is all behind me now, it will be nice not to have to talk about tax all the time," The Australian newspaper quoted him as saying.
A statement from his lawyer said that the matter had been settled after mediation before a former High Court judge.
It said "they and their related entities have reached a settlement with the commissioner of taxation on a 'without admission' basis".
"The parties have agreed that the terms of the settlement are to be confidential, but as part of the settlement the departure prohibition order issued against Mr Hogan has been revoked by the commissioner."
In August 2010 the actor was temporarily barred from leaving Australia after returning there from Los Angeles for his mother's funeral because of the tax row.
But the travel ban was dropped two weeks later and in November of the same year a criminal investigation into Hogan's financial affairs was dropped.