Kazakh police on trial over Zhanaozen violence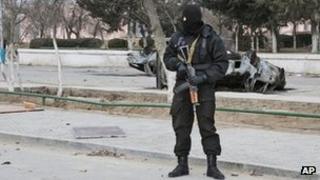 Five policemen accused of shooting protesters last year in deadly violence in west Kazakhstan have gone on trial.
At least 15 people were killed and more than 100 wounded as security forces and striking oil workers clashed in the town of Zhanaozen in December.
Witnesses said police fired indiscriminately at unarmed workers. Police say they acted in self-defence.
Critics say the accused are medium or low-ranking officers who are unlikely to have given the order to open fire.
Thirty-seven former oil workers are already being tried separately on charges of organising the unrest.
The violence broke out when police tried to clear a town square ahead of celebrations marking the 20th anniversary of Kazakh independence from the Soviet Union.
For six months, the square in Zhanaozen had been occupied by oil workers striking for better pay and conditions.
The industrial action was declared illegal and the striking workers sacked by the state oil company that employed them.
The Kazakh authorities initially praised the actions of the police in the unrest, saying they had had no choice but to use armed force to restore order.
But video phone footage later emerged on the internet that appeared to show police officers shooting at and beating unarmed civilians.
The authorities responded by ordering a criminal investigation into the use of weapons by police.
Meanwhile, rights activists have called for the trial of the 37 former oil workers to be halted.
The BBC's Rayhan Demytrie in the commercial capital Almaty says many of the defendants have given detailed accounts of alleged beating and torture at the hands of the police during the investigation.
Zhanaozen, a town of some 90,000 inhabitants, lies in the remote but oil-rich south-western region of Mangistau.
In January, tension eased and President Nursultan Nazarbayev lifted a state of emergency in the town.