Ichiro Ozawa: Court clears Japan's 'shadow shogun'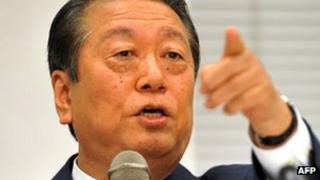 Influential Japanese politician Ichiro Ozawa has been found not guilty in a funding scandal.
Mr Ozawa, dubbed Japan's "shadow shogun" because of the backroom power he wields, had been accused of violating political fundraising laws.
But he had argued it was a technical mistake of which he had been unaware.
Mr Ozawa leads the largest faction in the ruling Democratic Party (DPJ) and is considered one of the most powerful men in Japanese politics.
The verdict, handed down by the Tokyo District Court, was keenly watched in Japan, with television networks breaking into their coverage.
Tax battle
Correspondents say the ruling could impact on the government of Prime Minister Yoshihiko Noda, already hit by low public support.
Mr Ozawa strongly opposes Mr Noda's plan to double sales tax as a way of tackling Japan's debt and meeting rising welfare spending needs.
The prime minister wants to raise the tax to 10% by 2015, but Mr Ozawa says it would hit the public hard at a time when the economy was struggling.
The veteran politician, who once led the DPJ and is credited with engineering its landmark election victory over the Liberal Democratic Party in 2009, is currently suspended from the party.
He had been accused of overseeing false accounting by his staff.
Prosecutors accused him of conspiring with aides to hide a $4.9m (£3m) loan to his political fund management body.
They say the money was to be used to facilitate a 2004 land deal.
Three of his former aides were convicted last year in connection with the scandal and given suspended prison terms.
Prosecutors argued it was "unthinkable" that Mr Ozawa had not known about it.
But the court ruled in favour of Mr Ozawa, who had denied any wrongdoing throughout, saying the charges were politically motivated.