North Korea's nuclear tests
12 February 2013

From the section

Asia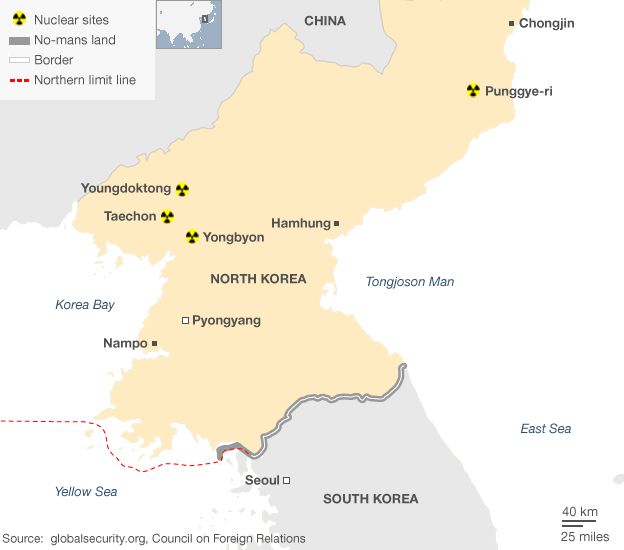 North Korea's nuclear programme has been a source of great concern for the international community for more than 20 years.
The state is now believed to have conducted three underground nuclear tests.
It says that the latest, widely-anticipated third test involved a "miniaturised" nuclear device.
Previous tests were in 2006 and 2009, and all of them appear to have originated at a test site called Punggye-ri, also known as P'unggye-yok, in a remote area in the east of the country, near the town of Kilju.
Multiple rounds of international negotiations amid a strict sanctions regime - a process, which has been described as a game of cat and mouse - appear to have done little to curb North Korea's nuclear ambitions.
North Korea's previous tests followed rocket launches. The latest rocket was successfully launched last December.
9 October 2006
Years of posturing and wrangles over the delivery of American aid culminated in October 2006 with an announcement by Pyongyang that it had carried out an underground nuclear explosion.
North Korea's first nuclear test exploded a device based on plutonium, rather than enriched uranium.
The test was conducted at P'unggye-yok, and US intelligence officials later announced that analysis of radioactive debris in air samples collected a few days after the test confirmed that the blast had taken place.
But they estimated that it had not been a powerful one, measuring less than one kiloton, raising questions about the sophistication and effectiveness of the weapon.
This is less than a tenth of the size of the bomb dropped on Hiroshima in 1945.
In response to the test the UN approved military and economic sanctions against North Korea.
After years of on-off talks, in February 2007 Pyongyang agreed to shut down its main nuclear reactor at Yongbyon in return for aid and diplomatic concessions.
But negotiations stalled as North Korea accused its negotiating partners - the US, South Korea, Japan, China and Russia - of failing to meet agreed obligations.
25 May 2009
Barely a month after North Korea walked out of international talks on its nuclear programme, it carried out its second underground nuclear test, which was said to be more powerful than the first.
Russia's defence ministry estimated a blast of up to 20 kilotons, a similar size to the American bombs that completely destroyed Hiroshima and Nagasaki in 1945.
Although the North gave no details of the test location, South Korean officials said a seismic tremor was detected in its neighbour's north-east around the town of Kilju - close to P'unggye-yok.
The US Geological Survey said a 4.7-magnitude quake was detected, 10km (six miles) underground.
Geological agencies in both South Korea and the US said the tremor indicated a nuclear explosion.
After the test, an official communique stated that it was "part of measures to enhance the Republic's self-defensive nuclear deterrent in all directions".
The underground test followed hard on the heels of the test of a long-range missile that threatened Asia and could have reached the US.
The UN issued a resolution condemning the nuclear test and tightened sanctions. And after the US imposed tough sanctions in August 2009, Kim Jong-il said he was willing to resume nuclear talks.
November 2010: Tour of Yongbyon
In November 2010 a US atomic scientist was given a tour of North Korea's uranium enrichment plant at Yongbyon about 100km (60 miles) north of the capital.
Siegfried Hecker was shown an experimental light-water nuclear reactor that was still under construction, and perhaps more significantly a new facility that contained "more than 1,000 centrifuges" that the North Koreans said was processing low-enriched uranium to fuel the new reactor.
He said the facility seemed designed primarily for civilian nuclear power but that it could easily be converted to further process uranium to weapons grade.
The Stanford University scientist described the plant as modern and clean - unlike all the other Yongbyon facilities he had seen - and said he was "stunned" at its sophistication.
There are a number of other sites associated with North Korea's nuclear programme around the country. At Taechon, for example, work on a graphite heavy water plant was started, but suspended several years ago.
12 February 2013
In the early hours of 12 February 2013, unusual seismic activity was detected around the Punggye-ri underground nuclear test site. This was followed with confirmation by the state news agency that North Korea had successfully tested a device.
"It was confirmed that the nuclear test that was carried out at a high level in a safe and perfect manner using a miniaturised and lighter nuclear device with greater explosive force than previously did not pose any negative impact on the surrounding ecological environment," KCNA said.
The reference to "miniaturised" is likely to alarm observers, with fears that Pyongyang's ultimate aim is to produce a device small enough to fit on a long-range missile.
In recent weeks speculation has been rife that such a test might involve a uranium device, which could have significant implications for North Korea's nuclear capabilities.
However, a well-contained underground test may provide little evidence of this, analysts say.