Pakistan begins new plane inspections after crash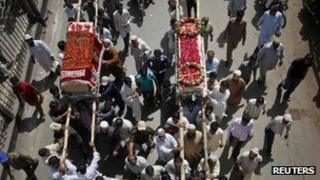 Pakistan's Civil Aviation Authority has begun safety inspections of all airplanes operated by private airlines, days after a crash killed 127 people.
On Sunday the government ordered all such airliners to undergo new safety tests.
The Bhoja Air Boeing 737, which had flown from the southern city of Karachi, crashed on its approach to Islamabad's airport.
The funerals of some of those killed took place in Karachi on Sunday.
The plane came down during bad weather in the village of Hussain Abad on the outskirts of Islamabad on Friday evening, scattering debris over a wide area.
The head of Bhoja Air has been barred from leaving the country pending the outcome of an official inquiry into the disaster.
The flight's data recorder has been recovered and has been sent for analysis.
Safety questions
The inspectors are also focusing on commercial airlines Shaheen and Air Blue.
"The defence minister has ordered a shake down inspection for all the private airlines," Pervez George, head of Pakistan's Civil Aviation Authority, told the AFP news agency.
"So all the private airplanes will undergo a re-inspection but without disturbing their flight schedule," he added.
Correspondents say some people have called into question Pakistan's system of regulating air safety.
Friday's crash is the second deadly air crash in Pakistan in recent years.
In July 2010, an Airblue Airbus A321 crashed as it was about to land in Islamabad, killing all 152 people on board - Pakistan's worst-ever air disaster.
Bhoja Air is a small commercial airline that started domestic flights in 1993. It suspended operations in 2001 because of financial difficulties but recently re-opened.
Although Pakistan's air industry has been booming, critics say standards have not always kept pace with the increase in services.