South Korea deploys cruise missiles amid North tensions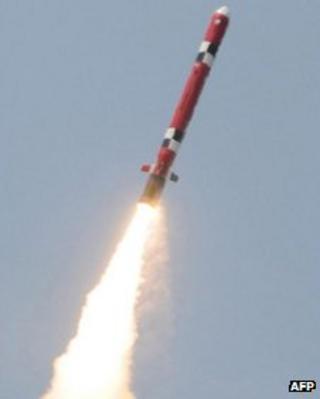 South Korea says it has deployed new long-range cruise missiles that can hit ''any place'' in North Korea.
A defence ministry official said the missiles had a range of 1,000km (625 miles) and could hit any of Pyongyang's nuclear or missile sites.
The rare announcement came amid tension on the peninsula following North Korea's failed rocket launch.
Pyongyang said it was launching a satellite; critics said it was a banned test of long-range missile technology.
"Our military will sternly and thoroughly punish reckless provocations by North Korea while maintaining our firm readiness," South Korea's Major General Shin Won-Sik told reporters.
A ballistic missile with a range of 300km has also been deployed.
The announcement came hours after North Korea lashed out at Seoul for its criticism of the rocket launch, which it said was to commemorate the centenary of the birth of founding leader Kim Il-sung.
Pyongyang would wage a ''sacred war'' unless the South apologised, said a statement in state media KCNA. The North's military has also threatened to ''blow up'' Seoul.
Earlier this week, the United Nations Security Council condemned North Korea's rocket launched and called for sanctions to be tightened.