Cardboard cathedral for quake-hit New Zealand city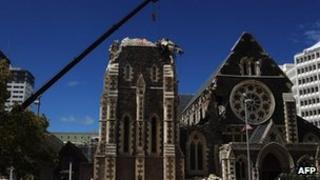 A cardboard cathedral will be built in the New Zealand city of Christchurch to temporarily replace the one damaged by the 2011 earthquake, officials say.
The 25-metre-high NZ$5m ($4.1m, £2.6m) cardboard version, to rise close to the quake-damaged cathedral, is to be completed in December.
Christchurch cathedral itself is to be demolished after it was deemed beyond repair.
The 22 February quake left 185 people dead and many buildings badly damaged.
The Transitional Cathedral, to be made mostly out of cardboard tubes, will be built about 300m from the cathedral, Anglican church officials said .
Designed by Japanese architect Shigeru Ban, it will have a seating capacity of 700 people.
The structure, which will also incorporate timber beams, structural steel and a concrete pad, will be used as a place of worship until a permanent replacement for Christchurch cathedral can be built.
The proposed temporary structure, described as weather and fire-proof, is projected to last for at least 20 years.
The 6.3-magnitude earthquake, which damaged thousands of buildings in the city, badly damaged Christchurch cathedral, which was built in the late 19th century.
Church officials said in March that it was beyond repair and had to come down. They said it would be deconstructed "with the utmost care and respect".
Conservationists, however, have asked for the decision to be reconsidered. They say that officials should explore more options to try and keep much of the current structure.