Stolen fairy penguin 'home and safe' in Australia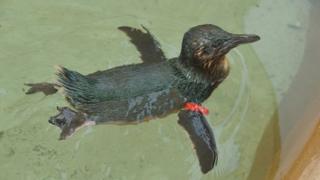 Dirk, a fairy penguin stolen from a theme park in Queensland, Australia over the weekend, is home and safe after a couple found him.
The seven-year-old penguin was ''in reasonable health, although exhausted'' when he was rescued late on Sunday evening, said Sea World.
Police have charged three men for stealing the penguin and trespassing.
They allegedly broke into the park on Saturday night and swam in the dolphin enclosure before making off with Dirk.
The little bird was bred in captivity and has never lived in the wild.
Sea World said in a statement that it received a call from a member of the public who spotted the penguin on Sunday evening.
A couple saw the penguin being chased out of the water in an estuary near the park - possibly by a shark - and then being chased back in by a dog.
They then searched for ''lost penguin'' on their phone and saw reports of the theft, park officials said.
''Had we not got him it wouldn't have been a good situation at all in the long term for Dirk," Sea World's director of marine sciences, Trevor Long, told Australian media.
Information from the public also helped locate Dirk's abductors.
Police, following a tip-off that the trio had posted about their deeds on Facebook, caught the men who are aged 18, 20 and 21. They have since been charged with trespassing, stealing and unlawfully keeping a protected animal.
Dirk, who belongs to a breeding colony, has since been reunited with his girlfriend, Peaches.