Japan plans to restart reactors at Ohi nuclear plant
13 April 2012

From the section

Asia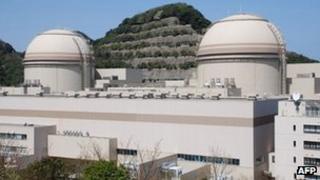 Two of Japan's nuclear reactors have been declared safe and should be restarted to combat looming power shortages, the government says.
Since a tsunami triggered a meltdown at the Fukushima plant in 2011, residents have demanded reactors not be turned back on after routine maintenance.
The sole nuclear reactor still in action will be switched off in May.
Regional authorities need to give their approval before the two reactors at the Ohi plant in western Japan can restart.
The plant is about 100km (60 miles) north of the city of Osaka, Japan's second biggest city. It is operated by Kansai Electric Power.
'Severe power shortages'
Industry Minister Yukio Edano said inspectors had "finally confirmed" that Ohi's Number 3 and Number 4 reactors were safe and that the government "deemed it necessary" to restart them.
But Mr Edano warned that Japan still faced a summer of "very severe power shortages".
Before the Fukushima disaster, nearly a third of Japan's electricity was generated by nuclear power.
But the six-reactor Fukushima Daiichi nuclear plant was badly damaged by the earthquake and tsunami, with explosions and partial meltdowns in several of the reactors.
The government has been carrying out stress tests on nuclear power stations to reassure people living nearby that they can resist strong earthquakes.
But since the Fukushima disaster, local communities have been refusing to allow reactors to be restarted after routine maintenance, which has to take place every 13 months.
In the meantime, Japan has increased its fossil fuel imports, with electricity companies pressing old power plants into service.