Afghanistan: Militants 'kill police by poisoning food'
3 April 2012

From the section

Asia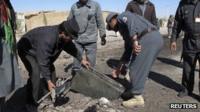 Militants killed four Afghan policemen and two civilians inside a police checkpoint by poisoning their yoghurt and launching an attack, officials say.
The attack happened in the Nehre Siraj district of southern Helmand province, the local police chief told the BBC.
There have been several recent poisoning incidents involving members of the Afghan National Police, the BBC's Bilal Sarwary reports from Kabul.
It comes amid attempts by the Taliban to infiltrate the security forces.
Three police officers have been reported missing - along with their weapons and a police vehicle - following Tuesday's attack in Helmand.
They are believed to have been working with the Taliban, intelligence officials told our correspondent.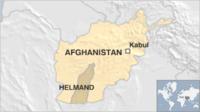 Helmand's police chief Ahmad Nabi Ilham said the Taliban militants had first poisoned the police officers' yoghurt before launching a full scale attack on the checkpoint.
Similar tactics had been used by insurgents in Helmand before, Dawood Ahmadi, spokesman for the provincial governor, said.
He told the BBC an investigation is underway to establish exactly what happened.
Afghanistan's police are playing an increasingly important role in the country's security as Nato troops prepare to pull out in 2014.
But there are concerns that the speed with which they have been expanded to fulfil new roles has allowed many militants to infiltrate their ranks.