Suspect pleads not guilty to Thailand explosives charge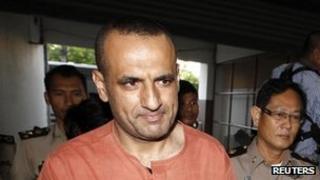 A man who Thai police suspect of having militant links has pleaded not guilty in court to possessing illegal explosives.
Atris Hussein, a Swedish citizen of Lebanese origin, was arrested in January following a US alert over a possible terrorist threat.
Thai police said he led them to a building with more than 300 boxes of bomb-making materials such as fertiliser and ammonium nitrate.
Mr Hussein denies any militant links.
Thai police have said that he has links to Hezbollah, a Lebanon-based Shia Islamist movement backed mainly by Syria and Iran that the US considers to be a terrorist organisation.
"I am not a terrorist," he was quoted by the Associated Press news agency as telling reporters outside the Bangkok court.
Mr Hussein was arrested on 12 January at the international airport in Bangkok, hours after the US and Israel issued a warning for their citizens to avoid tourist sites because of a possible terror threat.
He faces up to five years in prison if found guilty.
His case is not related to another series of failed bombings in Bangkok on 14 February involving Iranian suspects, Thai police say.