No easy road ahead for Julia Gillard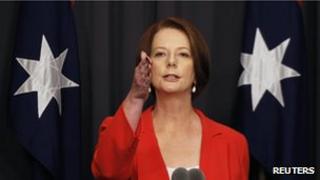 Australia's first female leader, Julia Gillard, has triumphed in an internal party ballot by 71 votes to 31 in a poisonous leadership contest with Kevin Rudd, the man she ousted in June 2010.
This campaign sparked one of the most brutal bouts of infighting the country has ever seen, as Ms Gillard's loyalists tore into Mr Rudd's record as prime minister and claimed he had become a traitor by trying to sabotage the Labor government.
At times, it seemed cannibalistic, with the fragile governing party turning on itself.
"At times it's been ugly," said Ms Gillard. "Australians have had a gutful of seeing us focus on ourselves."
"I can assure you that this political drama is over," the prime minister asserted.
It is, at least in the short term, for Kevin Rudd, arguably one of Australia's most popular politicians who led the country through the perilous days of the global financial crisis.
He has promised to end his campaign to replace Ms Gillard and return to the backbench as the member for Griffith in Queensland.
"I congratulate Julia on her strong win today. The caucus has spoken," the former foreign minister told a press conference in Canberra.
"To those who have been a little more willing in their public character analysis of me in recent times could I say the following: I bear no grudges, I bear no one any malice, and if I've done wrong to anyone in what I've said or in what I've done to them, I apologise."
Bleak outlook?
Despite a thumping victory and pleas on all sides for unity, Ms Gillard can expect more intrigue in the coming months.
According to the opinion polls the Welsh-born leader's shaky minority administration, which relies on a handful of independents and a Greens MP, has been slipping into the death zone of public unpopularity, and if the bleak outlook does not improve, there is likely to be another leadership challenge well before an election due in late 2013.
To survive, the prime minister needs to hand down a budget in May that wins over voters and to convince a sceptical public that controversial carbon and mining taxes will not cost jobs and damage the best performing economy in the developed world.
Craig Emerson, the acting foreign minister, who took the job when Mr Rudd resigned last week, said that Ms Gillard was capable of reigniting her party's fortunes.
"The country will benefit now from the end of the fighting that's been going on. And so we'll get on with that big reforming task and the courage with which Julia Gillard has demonstrated in terms of implementing those necessary but sometimes unpopular reforms," explained Mr Emerson.
For Australia's conservative opposition the internecine brawling in government ranks is a political gift. Its leader, Tony Abbott, is demanding a fresh election to let voters put an end to the chaos.
"The public has concluded that minority government is an experiment that's failed," said Mr Abbott.
But politics is unpredictable and some former leaders, including John Howard, did manage to recover from the edge of electoral oblivion. But former prime ministerial adviser David Gazard believes Ms Gillard is a lost cause.
"It's hard to see it [Labor Party infighting] stopping and it is hard to really believe anything that Julia Gillard and the rest of caucus say about unification because it has been such a public bloodletting," he said.
"They've flayed each other in such a corrosive and bitter fashion that any attempt to stuff the genie back in the bottle really just looks like spin at this stage."
After declaring that Australia's "political drama" was now over, Julia Gillard will need an Oscar-winning political performance to save her government from defeat at the next election.